NEW FROM KHEPRI PRESS
NOW AVAILABLE
De Sorore Mystica
De Sorore Mystica, On the Sister Mystics, is an exploration of partnership in mystic, spiritual, alchemical, and/or artistic practice. More than a collaboration, the soror mystica is found throughout alchemical literature . First coined apparently by C.G. Jung in his alchemical writings, this partnership is more than the psychic projections of the alchemist.
This zine puts Jung's psychological concept aside and looks at actual alchemical partnerships, from the Alexandrian alchemists Zosimos and Theosebia to the 17th century mystics Jane Lead and John Pordage, and considers the other meanings and possibilities that arise. And, from this, sketch an outline of the distinguishing features of this relationship towards a definition. Also considered in this zine are the relationships of Leonora Carrington, tantra, mirror neurons, the golem, Atalanta Fugiens, and a couple of recipes.
28 pages   $10.00
---
The Hermetic and Alchemical Zines of Brian Cotnoir.  
The Boxed Set of Zines is now available in an unlimited, unnumbered, and unsigned
"One of Many" edition.
The Hermetic and Alchemical Zines of Brian Cotnoir.  Boxed Set of the Zines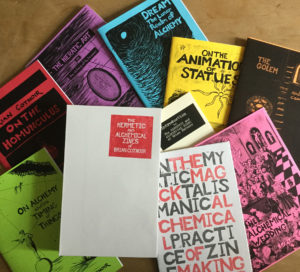 This is a "One of Many" edition, an unlimited edition of The Hermetic and Alchemical Zines of Brian Cotnoir, Vol. I., unsigned and unnumbered. It is a box set of all of Cotnoir's 7 alchemical, theurgical zines plus the new zine On the Mystic Magick, Talismanic, Alchemical Practice of Zine Making, and an Introduction and Backstory available only with the set. Working from primary sources and new translations, the zines explore a variety of alchemical and esoteric topics such as: artificial life, dream, animation of statues, time, union of opposites, the golem, and talismans.
From the Introduction:
"Re-reading this collection I'm in thrall to its tactility and analogue affect. I get a palpable sense of Cotnoir handling an incredible range of texts, of his having a muscle memory of those texts' enduring value as well as a haptic appreciation of their potentiality, of him scissoring extracts to remix and reconfigure, handwriting and drawing elements that augment his visionary archive. I'm drawn to the elements of cut-up chaos, outsider-art graphology, polylingual sampledelia. The book's pages feel remind me of a New York that once flourished – noisy, sometimes illicit, heterogeneous – and that still looms large in my dreams. The books wears its deep learning lightly but it never talks down to readers; its bibliography will steer them in directions both intimidating and exciting." Sukhdev Sandhu (New York University)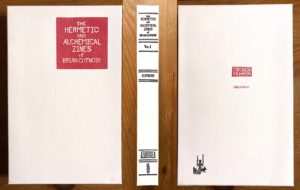 8.5″ x 5.5″ x 1.0″, Zines – Photocopy,  Slipcase Offset Printed.
$80.00
An unlimited edition marked "One of Many"
NOTE:
Of course you can order directly from Khepri Press but postage from NYC is quite expensive.
---
---
The Monochord: a philosophical instrument
The Monochord is not a musical instrument but a philosophical instrument used by Pythagoras, Euclid, Quintilianus, Harry Partch, etc.  to explore the underlying structure of the cosmos through the study of Harmonics. This little zine provides an overview of the theories but as important it provides instructions on building a monochord and some exercises and charts with which to begin study and practice.
NOTE: The contents of this little zine are in the Alchemy and Music zine. That is, the monochord related material was pulled out of that zine and put into one risograph single sheet print. It's for those who might not want all the esoteric stuff and just want to work with a monochord. It's cute too.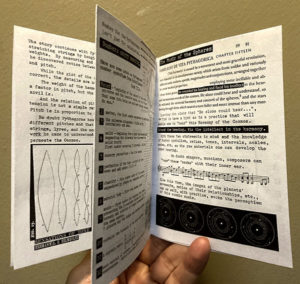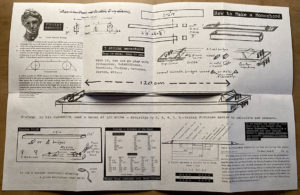 Single Sheet Fold Out.  OUT OF PRINT
---
On Alchemy and the Symbolics of Color
Alchemical practice entails physical laboratory work with minerals and metals as well as a more Neo-Platonic meditative practice concerning the ascent of the soul and union with the One.
Color is used to express the processes and stages in both of these aspects.
This zine, working with the idea that a symbolics is "contained within sensory images," looks at how our experience of color arises. It begins with the cosmos and alchemical theory and moves to the physics and biology of color and color vision, early theories of   color perception, psychology, and spiritual frameworks.
By no means exhaustive, the zine is a source, a collection of trail heads into the question of how to create a symbolics of color.
ΝΟΤΕ: This is Not a color symbol  codebook.
32 pages         $15.00
---
Paperback
Alchemy: The Poetry of Matter
Alchemy: The Poetry of Matter is an alchemical book rather than a book about alchemy. It is full of practice and experiment and perhaps a puzzle or an enigma. Its intent is to inspire curiosity about another way of knowing.
Alchemy is the art and science of bringing something to its final perfection, or its completion, much as a work of art is completed or perfected. And so, at heart it is about creation, creator, and creativity. Rooted in the Alexandrian alchemical tradition and working from a new translation of the Emerald Tablet, Alchemy: The Poetry of Matter is the author's personal exploration of the union of material and non-material alchemical practice, that is of physical alchemy and inner alchemy. Engaging the Way of the Philosopher, and through direct experimentation, several areas are investigated in light of the Emerald Tablet – Chrysopoiea, the Green Lion, the Quintessence and Aurum potabile.
Unique to the book are five new translations of the earliest extant manuscripts of the Emerald Tablet, as well as translations of John of Rupescissa's and Arnald of Villanova's writings on the quintessence of wine and gold. (Read more)
Paperback Edition. $19.99 
---
Hardcover Limited Edition
Alchemy: The Poetry of Matter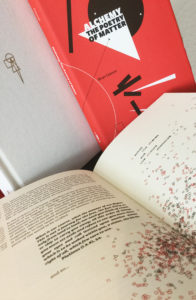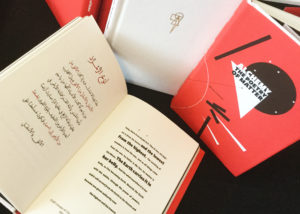 Hardcover. 172 pages. Illustrated. This edition is limited to 800 numbered copies.
$75.00
---
Risograph Dust Jacket
Alchemy: The Poetry of Matter
Alchemy: The Poetry of Matter with a Risograph Dust Jacket.
A limited edition of 28.
28 covers each with one letter of the Arabic alphabet.
Kanat typeface designed by Lara Captan.
NOTE: This book is identical to the Standard Cloth Edition, the only difference is in the Dust Jacket.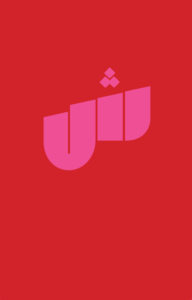 Limited Edition of 28.
$137.00
Use the contact form to check on the occasional availability of sold out items
Special Edition: Full Imperial Vellum with goldstamped device and black leather title label also in gilt. Housed in a red slipcase with labyrinth device stamped in gold.
Limited to 17 copies. SOLD OUT
Deluxe Edition: Red and Black two-tone full leather binding with gilt title and devices.
Limited to 23 copies.   SOLD OUT
---

The Emerald Tablet can be considered one of the root texts of alchemy, a brief alchemical work attributed to Hermes Trismegistus; it describes the cyclic flow of all creation – the basis for alchemical practice.
This publication is a collection of new translations of the earliest extant Arabic and Latin versions with accompanying essay and commentary.
The Latin text is a 12th century translation of the 9th century Arabic text, and they are presented side-by-side with their respective English translations. The accordion book format has the texts and translations on one side, allowing for comparison readings of The Emerald Tablet. On the reverse side is the commentary and brief analysis by Brian Cotnoir. (Read More)
29 copies Limited Edition Leather Bound in Red Moroccan goat leather with hot stamping 23k gold SOLD OUT. Use the contact form to inquire about occasional availability.
71 copies Limited Edition Cloth
Bound Green Silk with hot stamping 23k gold $850 ORDER TODAY
---
---
An English translation of the Arabic Emerald Tablet. Translated by Brian Cotnoir. The title and overall design by Lara Captan. The Arabic text is set in DecoType Naskh by Thomas Milo & Mirjam Somers.  Letterpress, signed Limited edition of 103 copies 12″x18″ 300gr Magnani paper.
$40.00
NOTE: This item ships separately in a flat rigid mailer
---
---
A nearly wordless consideration of alchemical theory and practice. Meditations is a limited edition series of linoleum block images – results from and expression of alchemical process and theory. (Read More)
---